Anchorage (Whittier), AK
Cruises from Anchorage (Whittier) depart from May to September.
A small wilderness community, inaccessible by road until 2000, Whittier, AK is a gateway to Anchorage. The route between Whittier and Anchorage is along beautiful Turnagain Arm, famous for its sweeping tidal changes, in the shadow of the Chugach Range. The city's location in a prime wildlife-watching area pays off -- visitors can see Dall sheep, mountain goats, beluga whales, bald eagles and other species.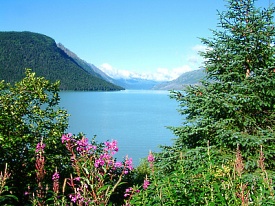 Language: English
Currency: US dollar (US$)
Driving Directions and Parking Information
Port of Whittier
The Egan Convention Center, in Anchorage, Alaska is the meeting point for cruises departing from Whittier, Alaska. There are no parking facilities at the Whittier Port at this time.
Egan Convention Center
555 West 5th Avenue
Anchorage, Alaska 99501
Anchorage (Whittier), AK Weather
Jan
Feb
Mar
Apr
May
Jun
Jul
Aug
Sep
Oct
Nov
Dec
High
31
33
36
43
51
60
62
61
53
42
35
32
Low
23
24
26
33
39
46
51
49
44
34
27
24
Average
26
28
30
37
45
52
56
54
48
38
30
28
Jan
Feb
Mar
Apr
May
Jun
Jul
Aug
Sep
Oct
Nov
Dec
High
-1
1
2
6
11
16
17
16
12
6
2
0
Low
-5
-4
-3
1
4
8
11
9
7
1
-3
-4
Average
-3
-2
-1
3
7
11
13
12
9
3
-1
-2
Jan
Feb
Mar
Apr
May
Jun
Jul
Aug
Sep
Oct
Nov
Dec
Inches
18
15
14
16
16
10
11
15
21
19
18
24
Centimeters
46
38
36
41
41
25
28
38
53
48
46
61